Introduction
Hey there, SaaS founders! Running a successful SaaS startup is getting more competitive because of advancing technologies and customer demands.
You must always stay ahead of the game, which can require gathering specialized skills that may not be part of your core team. That's why, for many tech entrepreneurs, having the right full-service marketing agency on board is essential for success in 2024
It's not just about sending a few emails or running some ads. To succeed, you must understand the industry, technology changes, and unique challenges.
That's where specialized full-service SaaS marketing agencies step in. These marketing agencies ensure that SaaS products reach their target audience and resonate with them.
So, if you're on the hunt for the perfect partner to skyrocket your SaaS product in 2024, you're in the right place. Let's dive into the world of top-notch SaaS marketing agencies; let's get started!
7 Best Full-service SaaS Marketing agency
1. growth.cx
growth.cx stands out as a full-service B2B SaaS Marketing Agency dedicated to assisting startups across the globe. Their primary focus is helping SaaS startups scale at any phase of their journey. With a blend of traditional and hybrid growth strategies, they emphasize the unique challenges and opportunities of SaaS marketing.
growth.cx is a passionate community of talents dedicated to helping startups and founders with their marketing needs. They operate like an in-house team, ensuring startups scale seamlessly across different phases.
growth.cx has helped more than 30+ global B2B SaaS startups scale.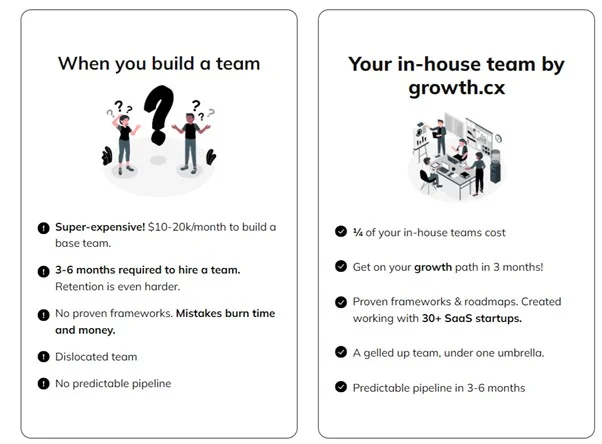 Services Offered
Product Marketing: Partnering with leadership across various teams to develop foundational positioning and messaging.
Growth Marketing: Holistic strategies focused on driving sustainable growth across all channels, ensuring businesses attract and retain customers.
Growth-Led SEO: Advanced SEO strategies tailored for SaaS businesses, ensuring they rank higher in search results and drive organic traffic effectively.
Content Marketing: Crafting compelling content that resonates with the target audience, from blog posts and whitepapers to infographics and videos.
Social Media Marketing: Engaging strategies to boost brand presence across platforms like Facebook, Twitter, Instagram, and LinkedIn, ensuring consistent engagement and brand recall.
Performance Marketing: Data-driven marketing strategies that focus on measurable outcomes, ensuring every dollar spent translates into tangible results.
Related Services
Growth Consulting
CRO Campaigns.
LinkedIn Marketing
Sales Enablement
Inbound & Outbound Sales
Product Launch.
GTM Strategy
Brand Design
UI/UX
Website Development
Website Hosting
Top Case Studies
SurveySensum
SurveySensum, is an AI powered innovative solution for online surveys. Surveysensum redefines efficiency and interactivity, empowering businesses to construct engaging questionnaires effortlesslystyle="color:blue;" .
Ideal Customer Profile
| | |
| --- | --- |
| Regions | US, Indonesia, India |
| Buyer Persona | CX professionals, Marketing professionals, HR managers, Product managers |
| Domains | Retail, Automotive industry, Banking, Healthcare |
| Company size | Small, Medium and Enterprises |
growth.cx helped in
Sample Works
Highly converting landing page – NPS Software
High ranked and converted blogs –
10 Best Qualtrics Competitors and Alternatives in 2023
15 Best NPS Tools & Software in 2023 [Free Version, Features & More]
Achievements
AI-Enabled CX Management platform SurveySensum generated $135k ARR in just 9 months through innovative, multi-channel surveys and actionable insights.
Factors.ai
Factors.ai is a B2B marketing analytics software company that helps businesses make sense of their data and make smarter, faster decisions. It offers an out-of-the-box marketing analytics solution that is designed to be easy to use and understand.
Ideal Customer Profile
| | |
| --- | --- |
| Regions | US, India |
| Buyer Persona | C-Level executives, and CMOs |
| Domains | FInance, Education, Architecture, Software, E-commerce |
| Company size | Large Businesses and Enterprises |
growth.cx helped in
Content marketing
SEO marketing
Sample Works
Blogs
7 Best HockeyStack Alternatives: Features, Reviews, and More
Top 7 Dreamdata Alternatives to Look For in 2023
Content Optimization
Top 7 Types of Attribution Models for You to Try in 2023
Achievements
291% growth in organic traffic within 5 months. 230% in total impressions.
Schoolvoice
Schoolvoice serves as a comprehensive digital hub engineered specifically for educational institutions, facilitating streamlined communication and optimal organization within their community.
Ideal Customer Profile
| | |
| --- | --- |
| Regions | US, India |
| Buyer Persona | Education institution decision makers |
| Domains | Education |
| Company size | Small, Medium Business And Enterprises |
growth.cx helped in
Content Marketing
Messaging
SEO
Social Media Marketing
Sample works
Highly converting landing page – Classdojo Alternative For School Communication
High ranking blog page – How To Improve School Communication [A Detailed Guide]
Achievements
With proper strategies and implementation, growth.cx helped Schoolvoice increase organic traffic by 1202% within 11 months.
SalesQL
SalesQL is a tool that helps you find personal and business emails, as well as phone numbers, on LinkedIn profiles. You can use it as Google Chrome or Microsoft Edge Extension.
Ideal Customer Profile
| | |
| --- | --- |
| Regions | USA |
| Buyer Persona | Marketing Specialists, Performance Marketers, Sales Associates |
| Domains | Healthcare, Software, Hospitality |
| Company size | Medium Businesses and Enterprises |
growth.cx helped in
Content Marketing
SEO Marketing
Social Media Marketing
Sample Works
Blogs
Top 15 Linkedin Lead Generation Strategies to Gain 2X Leads!
How to Find Email From LinkedIn: 3 Effective Ways and More
Achievements
Achieved 116% increase in organic traffic in just 3 months.
2.Bayleaf Digital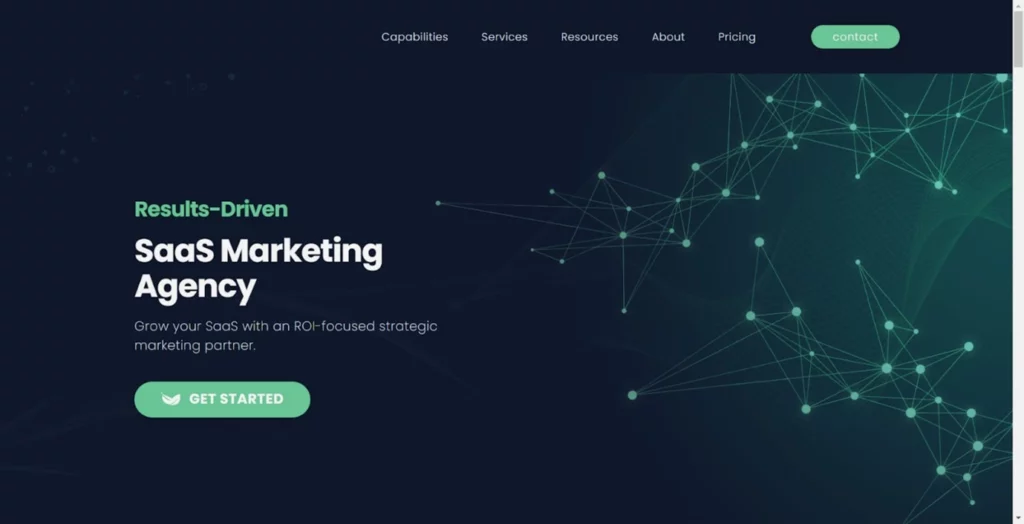 Bay Leaf Digital is a marketing agency that helps software companies grow their revenue by generating leads. Their team of experts is passionate about delivering real results by using data-driven strategies from B2B SaaS analytics. They take pride in their work.
Bay Leaf Digital specializes in B2B SaaS marketing, emphasizing data-driven strategies and analytics. They are known for their big-picture approach, analytical abilities, and accountability.
Services Offered:
Content Marketing
B2B SaaS Analytics
PPC & Retargeting
SEO Strategy
Marketing Automation
Social Media Marketing
Marketing Strategy
Bay Leaf Digital offers a wide range of services, making it a great partner for SaaS businesses.
3. Single Grain
Single Grain is a digital marketing agency dedicated to helping remarkable companies amplify their online growth. With a results-driven approach, they focus on turning innovative ideas into tangible revenue streams, making them a trusted partner for businesses aiming to scale.
Single Grain shines in its ability to provide growth-impacting marketing support. Their expertise spans various facets of digital marketing, particularly in driving and converting quality traffic.
Services Offered:
SEO & Content Marketing
PPC: Google & Facebook Advertising
Conversion Rate Optimization
SaaS Marketing
Paid Advertising
Content Strategy
Technical SEO
With Single Grain's holistic approach to digital marketing, businesses can expect growth and a transformation in their online presence.
4. Inturact
Inturact is a company that helps businesses with onboarding challenges by providing software solutions. Their goal is to help SaaS businesses grow smarter and faster by increasing paid conversions and improving retention.
Inturact specializes in SaaS onboarding, emphasizing both user and customer onboarding. They are experts at finding real problems with product onboarding, minimizing risks, and creating strategies that improve conversion rates and customer retention.
Services Offered:
SaaS Onboarding Services
Onboarding Audit
Onboarding Strategy
Event & Funnel Tracking
Onboarding Mapping
Onboarding Optimization
Onboarding Tools Setup
Inturact specializes in helping businesses improve user experience through SaaS onboarding.
5. Wallaroo
Wallaroo Media is a digital marketing agency. They specialize in amplifying brands using social advertising. Wallaroo Media is dedicated to achieving real results. They are a reliable partner for businesses looking to grow their online presence and revenue.
Wallaroo Media focuses on social media advertising on different platforms to help brands get more visibility and engagement.
Services Offered:
Paid Advertising
Organic Marketing
Design Services
Investing
With Wallaroo Media's comprehensive approach to online marketing, businesses can expect a transformative journey. This journey guarantees that their brand will grow and thrive in the digital world.
6. Heydigital
Hey Digital positions itself as a leading digital marketing agency that's focused on B2B SaaS companies. Their mission is clear: to drive sales pipeline and revenue for SaaS businesses. They use paid marketing to focus on getting high-quality signups and demos, which helps their clients get leads and convert.
Services Offered:
SaaS PPC Agency
Dedicated Landing Pages
Multi-Channel Ad Creatives
Multi-Channel Video Ads
Growth Plan
With Hey Digital's expertise in SaaS paid marketing, businesses can expect a significant boost in their online presence and conversions.
7. Heinz
Heinz Marketing is a powerhouse in the realm of B2B sales and marketing, with a clear mission to make a measurable impact on revenue, companies, careers, and lives. They focus on creating a sales pipeline that is predictable, repeatable, and scalable. This helps businesses grow in a sustainable way.
Heinz Marketing's specialty revolves around pipeline marketing. Their focus is on building a reliable sales pipeline to help businesses generate leads and turn them into revenue. Their holistic approach focuses on every stage of the buyer's journey.
Services Offered:
B2B Demand Generation
Industry Insight & Research
The Predictable Pipeline Method
Content & Messaging Development
Buyer Journey & Sales Cycle
Heinz Marketing has expertise in marketing. They use the Predictable Pipeline Method to help businesses. This method is structured and results-driven.
Why Choose a Full-service SaaS Marketing Agency?
Alright, let's get down to brass tacks. You've got a killer SaaS product and are ready to make waves in the market. But with so many marketing options, why go with a full-service SaaS marketing agency? Let's dive in:
1. Expertise in SaaS Product Marketing
SaaS isn't just another product; it's a whole different ball game. And who better to play it than experts who live and breathe SaaS?
Full-service agencies deeply understand the SaaS lifecycle, from acquisition to renewal.
They've been there, done that, and got the t-shirt. They can craft strategies that resonate with your target audience with their expertise.
2. Addressing Challenges Head-On
Are high churn rates keeping you up at night? Need help with product discovery? You're not alone.
These challenges are unique to the SaaS world, and generic marketing strategies will take some effort.
A specialized agency knows these pain points and has tried and tested solutions to tackle them. Say goodbye to sleepless nights!
3. Reaching the Right Customers and Keeping Them Close
It's more than just getting customers. It's about getting the right ones.
Full-service agencies have the tools and techniques to target your ideal user base, ensuring higher conversion rates.
And once they're in? These agencies craft retention strategies to keep them hooked. After all, a loyal customer is worth their weight in gold.
With a full-service SaaS marketing agency by your side, you're not just setting yourself up for success; you're gearing up to dominate.
How to Choose the Right SaaS Marketing Agency for Your Business?
Alright, let's get real for a moment. Picking the right SaaS marketing agency is as crucial as selecting the right co-founder for your startup. It's a decision that can shape the future of your business. So, how do you make the right choice? Let's break it down:
1. Understanding Your Requirements
First things first, what do you need? Are you looking for a complete marketing overhaul or just some fine-tuning?
Do you need help with content creation, SEO, PPC, or more?
Get clear on your goals. Whether it's boosting user acquisition, reducing churn, or increasing customer lifetime value, knowing what you want is half the battle.
2. Budget Considerations
Let's talk money. How much are you willing to invest in your marketing efforts?
Remember, the most expensive agency is only sometimes the best fit. It's about ROI, not just the price tag.
Be transparent with potential agencies about your budget. It'll help them tailor a strategy that gives you the most bang for your buck.
3. Assessing Your Current Team and Tech Stacks
Take a look inward. What are the strengths and weaknesses of your current team?
Do you have the necessary tools and tech in place, or are you looking for an agency that brings its toolkit?
Understanding where you stand helps you find an agency that complements your strengths and fills the gaps.
4. Checking the Reputation and Past Works of the Agency
Do your homework! Check out reviews, testimonials, and case studies.
Has the agency worked with businesses similar to yours? What were the results?
Reach out to their past clients if possible. A little detective work now can save you a lot of headaches later.
Importance of Choosing the Right Marketing Agency
You wouldn't let just anyone handle your personal finances. Similarly, when it comes to your SaaS business, the stakes are high, and the agency you choose can make or break your success. So, why is it so crucial to pick the right marketing agency? Let's dive deep:
1. The Impact on Business Growth and ROI
Imagine having a partner that not only understands your vision but amplifies it. That's the power of the right agency.
They don't just execute strategies; they create magic, driving tangible results and boosting your ROI.
With the right agency, every dollar spent is an investment in exponential growth.
2. Dodging Those Pesky Pitfalls
The SaaS world is full of potential pitfalls. From misguided campaigns to targeting the wrong audience, the risks are real.
The right agency has been around the block. They know the common mistakes and, more importantly, how to avoid them.
They are your safety net, ensuring your marketing efforts are always on point.
3. Aligning with Your Business Goals
Have you ever felt like you were speaking a different language from your marketing team? With the right agency, you're always on the same page.
They get your goals, your vision, and your passion. And they tailor strategies to align with them.
It's like having an extension of your team working in perfect harmony towards a shared objective.
4. Building Your Brand and Guarding Your Reputation
In the digital age, your brand is your identity. And the right agency? They're the guardians of that identity.
From crafting a compelling brand story to managing your online reputation, they've got your back.
With them by your side, you're not just another SaaS company but a force to be reckoned with.
Conclusion
In the world of SaaS, it's crucial to work with the right marketing agency. Competition is tough and things are always changing.
Understanding the SaaS model means more than just flashy campaigns or trendy buzzwords. It involves grasping its intricate nuances, unique challenges, and effective strategies that connect with potential customers.
A marketing agency that focuses on SaaS knows the industry and uses effective strategies to help your business grow.
But remember, it's not just about short-term gains. The true worth is in steady growth, keeping customers, and creating a lasting brand. And that's where specialized SaaS marketing truly shines.
When you choose the right agency, you're not just spending money on marketing. You're investing in your business's future, making sure it thrives in a competitive market.