When you search for what makes for a successful marketing campaign, you will come upon blogs like "Top 10 Key Components That Make a Successful…", "10 Essential Elements for a Successful…", "3 Key For a Winning…" and so much more. All these blogs talk about performing a SWOT analysis, market research, knowing your ideal customer, creating a USP, finding the right channel, setting up marketing goals etc. But one thing that matters the most is being creative in your marketing campaign.
Most of the time, the typical marketing approach may not work well for SaaS products. The SaaS sector and its customers are always expecting something different, something that's fresh and innovative, the likes of which the internet has never seen before. That is why many companies are constantly hunting for new ideas to grab the audience's attention. And only a handful have succeeded in creating unique marketing techniques.
Things to Keep in Mind Before Implementing a SaaS Marketing Campaign
Even a genius marketing campaign will fail if you don't understand your customers, rivals and selling proposition. The following points will help you create the best SaaS marketing campaign for your business.
1. Know Your Customers
The most crucial step in implementing any SaaS marketing strategy is to know your target audience. Find the features and benefits that customers value by doing extensive research. Once you understand your target customers, you can create the best B2B SaaS marketing campaign to reach and engage with them efficiently.
Creating a landing page specific to your Ad campaign has proven to work in a lot of cases, as we show below in the examples. Optimizing your websites with engaging content that provides relevant customer information is an example of a good SaaS marketing strategy.
2. Understand Your Competitors
To stay active in the SaaS marketing race, getting familiar with the other players in your industry is essential. So it would help if you spent time analyzing their websites, marketing techniques, and success stories. It allows you to come up with the best SaaS marketing strategy and improve yourself.
You can try visiting their websites and researching their blog, social media profiles, and ad campaigns to gain meaningful insights. You should also stay up to date regarding the latest news and trends in the industry as well.
3. Create a Unique Selling Proposition
The Unique Selling Proposition (USP) lets your customers know what makes your SaaS product unique. If you want to stand apart from your competitors, your proposition for the product should be unique, clear, and understandable to customers.
For example, offering best-in-class customer support will give you an upper hand over your competitors. Moreover, utilizing innovative technology that your competitors don't have access to will help you attract potential customers.
With these points in mind, let us now show you 8 of the best SaaS marketing strategies and campaigns that stood out so much that these companies became the talk of the internet.
8 Best SaaS Marketing Campaigns
1. Slack Teams TV Ad Campaign
Slack is a cloud-based communication platform that offers an easy way to interact with your team. This business collaboration tool grew to high popularity due to its ease of use and simplicity. Today, millions of people use Slack to bring teams together and achieve their business goals quickly.
Back in December of 2015, Slack made 2 debut TV commercials, one of which was absolutely adorable, called "Animals!". This ad campaign had CG animals using the Slack collaboration tool to get their work done. The internet loved it. The commercial on YouTube has over 16 Million views to date. Techcrunch reported the very next day that " The company is poised for a massively successful 2016, and is probably the most popular and beloved "enterprise" service we've ever witnessed" Slack was also clever to add a CTA link that goes to a landing page resonating with the Ad's theme. However, the link to the original landing page has been redirected since, but we were able to travel back in time to get its screenshot, especially for you.
2. Dropbox's Friend Referral Program
Dropbox is one of the most popular file hosting services which brings all your teams' files together. But did you know they used a textbook marketing strategy to grow their user base by 3900% in just 15 months? Needless to say, most people don't like ads, and people always have had the tendency to skip or ignore ads if they are not interesting. I mean, you know how annoying the ads on YouTube can get.
With that in mind, Dropbox went back to the marketing 101 manual and launched a new friend referral program, which is an excellent way to promote by word-of-mouth. Dropbox being a cloud storage space product, offered free storage space to those who referred their friend to sign up. They offered 500MB of extra storage per friend invited. Those who also signup through the referral also got incentivised. Additionally, they offered 125MB each for connecting your Facebook and Twitter accounts. This clever technique helped Dropbox to spread information about their services through word-of-mouth and increase the number of signups multifold.
3. Hubspot and Content Marketing
Hubspot, the well-known cloud-based CRM for marketing and sales, became popular by publishing comprehensive blogs which covered all marketing-related topics. The blogs of Hubspot are well-researched and optimized for SEO, making them the go-to source for marketers and PRs. And as you know, SEO is a very crucial part of any SaaS B2B marketing strategy.
Hubspot utilized the popular keywords intelligently in their content, and guess what? Their content attracted both industry experts and new readers. This portrayed them as industry leaders who were seen as the authority in their domain, and as a result, they successfully increased their outreach, client base, and marketing base.
4. Canva and Influencer Marketing
As you know, influencer marketing is mainly associated with makeup brands and soft drink ad campaigns. But Canva, the popular graphic design tool website, proved that influencer marketing also works on SaaS marketing campaigns. Canva is a freemium tool where anyone can create designs without much skills or knowledge in the field.
Canva began searching for brand evangelists like those who talked about their brand, YouTubers who used Canva for creating videos and those who taught graphic design classes using Canva. At some point in time, they came across Guy Kawasaki, who was creating his social media graphics using Canva! So eventually, they contacted him and made him Canva's brand evangelist. His sole advocacy aided Canva in doubling its users' numbers!
5. Fake Band From Zendesk
Most of us are familiar with Zendesk, a cloud-based customer service platform that delivers ticketing self-service options and customer support features. Eventually, Zendesk had a lot of alternatives, and people often searched for "Zendesk alternatives" on search engines. Instead of taking it as a negative thing, Zendesk took it as an opportunity to improve its traffic.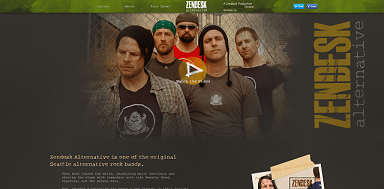 They came up with the brilliant idea of launching a fake band called "Zendesk Alternative!" They also created content on this fake band, social media profile and even a funny music video. So every time people search for Zendesk alternatives, the website of this band pops up and takes them to Zendesk. This best SaaS marketing campaign helped them gain 95% more conversions than Zendesk's own website.
6. Failforce Campaign by Freshworks Against Salesforce
Freshworks is a cloud-based software solution that helps businesses to grow, and you know, its tight competitor is Salesforce. In 2018, Freshworks launched a massive blimp at San Francisco, which reads "#Failsforce" on one side and "Freshworks Hit Refresh" on the other side. According to Freshworks, this campaign was their revolt against big, bloated software represented by the big, bloated blimp!They wanted people to know they meant business by taking over the skies of San Fransisco and letting them know who they waged war against!
Freshworks determined that 69% of small and medium-sized businesses plan to change their CRM. So they targeted SMBs who are sick of implementing costly CRMs that offer low productivity and waste time and resources. They took advantage of this opportunity by launching the blimp along with hosting a live press conference!
7. Hootsuite's "Game of Social Thrones"
For those looking for a single dashboard for their businesses to create, schedule and manage social media activities, Hootsuite is one of the popular choices! In 2014, Hootsuite came up with a brilliant marketing video campaign that broke the internet. They posted a video depicting the opening scene of the widely popular television series "Game of Thrones"
Hootsuite released the video just in time when the 4th season of Game of Thrones premiered and was trending on social media. The video was named "Game of Social Thrones" and featured a creative way of showing social media sites as different kingdoms, just as in the opening scene of the original television series. The video became a viral hit, and fans poured thousands of likes and shares across all social media platforms. Since then, the video has been viewed more than 1.3 Million times and is regarded as the most successful video on Hootsuite's YouTube channel!
8. How Buffer Changed its Blogging Technique
Buffer is a social media scheduling software that allows businesses to schedule posts on different social media platforms, analyze the results, and engage with the online community. Buffer's main advertising channel is blogging; initially, they published content only related to social media.
Since these blogs had only limited reach, Buffer changed their strategy. Instead of focusing on potential customers, Buffer started targeting influencers already reaching them. They believed that their possible audience was more likely to interact with other potential buyers. This strategy helped them reach a wider audience, enabling them to cover topics like psychology, creativity, multitasking, life hacks and more.
Luckily, the new approach turned the tables, and Buffer started to experience a substantial increase in social media shares. Their blog, "30 Things To Stop Doing To Yourself", received more than 500,000 Facebook likes, 400 comments and 20,000 Tweets!
Final Thoughts
Creating a great product or service is not enough for SaaS companies these days. You must find the best SaaS marketing strategy to engage with customers. As mentioned earlier, there's no point in marketing your products without having the proper knowledge about your target audience or competitors.
As you must have noticed in all the above examples, there is no one-size-fits-all type of campaign on the list. Each was different and unique in its own way. In fact, these companies required only one successful campaign to blast off their growth. With just one successful campaign, they were able to hack their growth, but it's easier said than done.
Remember, marketing your SaaS business is not as easy as it appears to be, even if you have several tools and technology to help you. The world has lost the chance to experience many killer products and services created by passionate individuals as they were not able to showcase them to the right people properly. That is why we've decided to do our bit to reduce the alarming number of failures of startups by doing what we know best – Marketing.
We at growth.cx have been helping startups and SMB SaaS companies worldwide realize their dreams of helping people with their awesome products. Our team has over a decade of experience in the startup and SaaS scene. If you're looking for a company that can help your business stand out from the crowd, contact us, and we will show you how we can unlock and hack your business's growth.