In the fast-paced world of B2B SaaS is a swim or sink environment. Your competitors are constantly innovating, and if you don't keep up, you risk being left behind. But what if I told you there's a secret weapon that could help skyrocket your SaaS business to new heights in 2023?
The Ultimate Growth Weapon for your business is – B2B SaaS Digital Marketing Agencies. Yes, at a fraction of what an internal marketing would cost your business you get the expertise, know-how, tools , applications, growth, scalability, etc.
You name it, they got it.
B2B SaaS Digital Marketing Agencies are your ticket to product and business success. In this blog post, we're unveiling the top 10 B2B SaaS digital marketing agencies in 2023.
So without further delay let's look at some of the agencies that can propel your SaaS business to new levels of success and help you dominate your industry.
10 Best Digital Marketing Agencies to Hire in 2023
We compiled this list of top 10 digital marketing agencies to save your time and effort. So without further ado, let's jump right in.
Founded in 2020, growth.cx is one of the top Full-Service B2B SaaS Digital Marketing Agencies in 2023.
We worked with and helped various businesses in the B2B SaaS and service space and scaled growth and key metric multifold. We have also worked closely with B2C and e-commerce brands to increase their sales and profit margins.
growth.cx started out with One Goal in Mind – To reduce the number of SaaS Startup failures. Almost 14-20% of startups fail due to poor marketing and so we decided to do our part to reduce that number by doing what we do best – Marketing
How We Stand Out
Unlike most agencies we don't have a template approach to our clients, we tailor our services and frameworks to best suit the needs of our customers with the goal of over-achieving their expectations.
In general we
Define clear objectives
Identify KPIs that matter to your business
Conduct market and competitor analysis
Create a tailor made strategy
Identify the best organic channels to market your brand and product
And finally we start working out our magic.
Oh wait, it doesn't end there. We regularly track, monitor and optimize our approach to get you the best results.
Right from the moment you partner with growth.cx, we act as an extension of your internal team. Your Goals are now OUR GOALS. Your Product is now OUR PRODUCT.
Based on your requirements we select and form a custom team of specialists and integrate them with your internal team – They are now YOUR TEAM MEMBERS.
B2B SaaS Services That We Provide to Super Scale Your Business
We are not like your typical digital marketing agency (You probably figured that out by now), growth.cx is a Full Service Marketing Agency.
We as a team are capable of handling all marketing aspects from strategic planning and production, sales, social media, digital marketing, analytics and more.
In short we provide every digital service your business needs. Our services include:
Fractional CMO
Fractional SaaS Marketing Service
Some of Our Growth Hacks For B2B SaaS Companies
With our team expertise we were able to scale Key SaaS Metrics for many businesses irrespective of the industry they belong to
We generated over $135k ARR in the 9th month alone for SurveySensum – An AI enabled Online Survey Platform.
We scaled Organic Impression by over 1900% in 5 months for Foaps – An online Restaurant Management System. But it doesn't end there, we also increased their Organic Traffic by 106% during the same time and acquired 300+ qualified leads in just 3 months through our performance marketing strategy.
We also managed to increase client acquisition by 800% in just 7 months for Toobler – A Digital Twin Service provider.
Insert reinforcement statement: Be it B2B SaaS, B2B Service, B2C to e-commerce, bootstrapped, VC-funded we don't care. All we care about is scaling your business to new heights that you have not seen.
2. Webchutney
Webchutney is one of the most popular and top digital marketing agencies in India in 2022! They follow a progressive approach in online marketing by combining innovations and technologies.
Webchutney was started 23 years ago, and now they have many award-winning campaigns and trusted clients!
Services Offered
Social Media Marketing
Search Engine Optimization
Content Marketing
Web Development
3. iProspect India
iProspect India helps companies to grab an edge over their competitors using their unique strategies and campaigns.
The company was founded in 1997 and has worked with many big brands in India. Moreover, iProspect India has won many awards like Best Digital Integrated Campaign Award from Aegon Life and iDecide, Best Digital Marketing Campaign Award from YES BANK, and many more!
Services Offered
Search Engine Marketing
Search Engine Optimisation
Paid Search Advertising
Organic Search Results
4. Mirum India
Previously known as Social Wavelength, Mirum India also takes a spot among the top digital marketing agencies for many reasons.
It's one of the few top digital marketing agencies in India which offers 360-degree solutions and has worked with popular brands like TVS, Nissan, LG, etc. Mirum India has completed 10 years of experience in digital marketing and has a lot of knowledge in the field!
Services Offered
Digital Communication
Social Media Presence
Corporate Blogging
Digital Media Planning and Buying
5. Pinstorm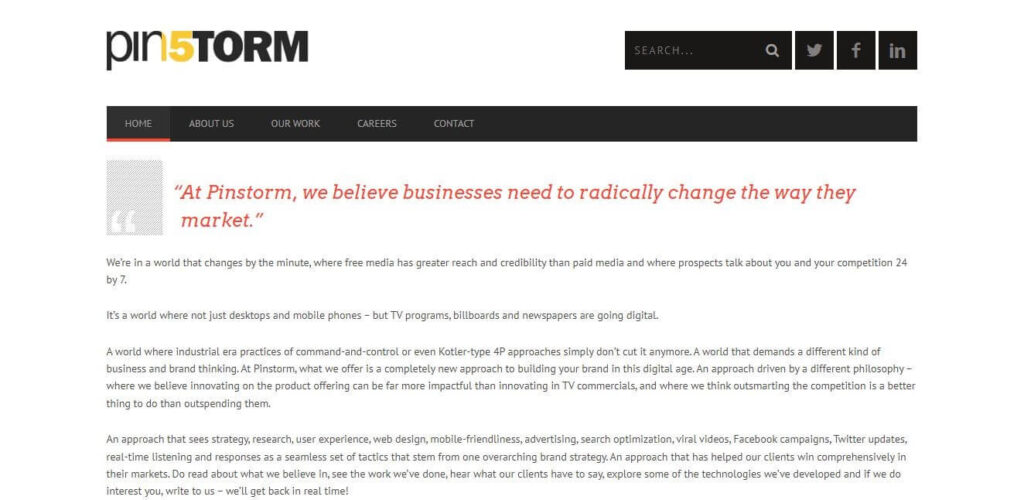 Established in 2004, Pinstorm won the Red Herring Global Top 100' award in 2020. This marketing agency in India has offices in Delhi, Mumbai, and Bengaluru and has served companies such as HSBC, ICICI Bank, ET NOW, etc.
Content marketing is the biggest strength of this best digital marketing agency.
Services Offered
Social Media Marketing
Online Reputation Management
Digital Marketing
Search Engine Optimization
6. BCWebwise
You won't find a list of top digital marketing agencies in India without BCWebwise! It is a full-service digital solutions provider famous for its creative strategies and successful campaigns.
BCWebwise was founded in 2000, and they have great knowledge in social media marketing, search engine optimization, customer relationship management, etc.
Services Offered
Mobile Marketing
Web Marketing
Social Media Marketing
Branding
7. WATConsult
WATConsult is another top marketing agency in India that helps businesses build a brand and drive sales! They have a diverse team of professionals and are experts in the digital marketing field.
Moreover, WATConsult has also won many awards, such as DMAi Gold Award for a Lead-based search campaign from Reliance Group, Youth Marketing Award for Best Disruptive Digital Campaign from Jack & Jones and more!
Services Offered
Social Media Marketing
Mobile Marketing
Digital Marketing
Search Engine Marketing
8. Growth Hackers Digital
Growth Hackers Digital is a digital performance marketing agency that helps businesses achieve their short and long term goals. The agency has a proven track record of working with startups and established companies.
Growth Hackers specialties mostly in paid social media ads. They design dynamic campaigns and continuously test and tweak them to ensure campaign success.
Services Offered
Social Media Marketing
Content Marketing
SEO
WordPress Development
9. The NineHertz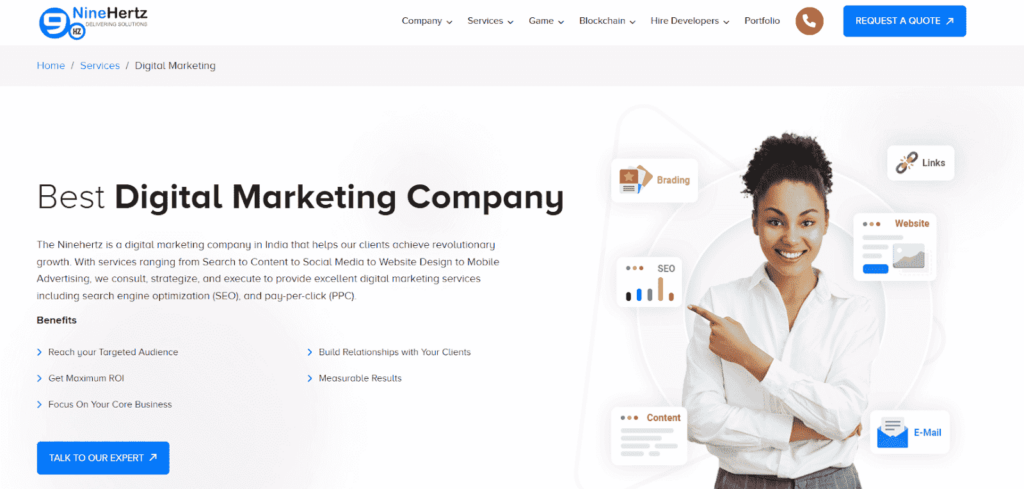 The NineHertz is a digital marketing company that believes that the key to getting the best results for their clients is through an integrated approach to their campaigns.
Their unique approach is to create a strategy based on the KPIs that matter to their customers and brainstorm campaigns that would best perform for those specific KPIs. Moreover, NineHertz uses data analytics tools to optimize their campaigns to increase its performance and efficiency.
Services Offered
SEO
Search Engine Marketing
Content Marketing
Social Media Marketing
10. FoxyMoron
FoxyMoron is a full-service digital marketing agency having a team of over 200 professionals. The agency has worked with some big name brands like Netflix, L'Oreal, Puma, etc.
FoxyMoron is quite well known for their creative social media campaigns that include the latest trends to connect with their clients target audience and keep them engaged in new and exciting ways. This approach has helped create memorable experiences for consumers while driving results for their clients.
Services Offered
Brand Communication
Content Production
Search Engine Marketing
Media Services
Things to Do Before Choosing a B2B SaaS Digital Marketing Agency
1. Set Your Budget
The first and most crucial step when choosing a saas digital marketing agency is to set a budget.
Ask yourself, "What is the appropriate budget you can spend on digitally marketing your saas startup?". Answering this question will give you an idea of the approximate amount you would like to spend and help you shortlist all companies that fall into your budget.
2. Determine Your Needs
You should clearly know what you want from the saas digital marketing agency you are looking to hire. Find the services they offer and see if it matches your needs.
For example, the essential service that every SaaS startup would expect from a B2B digital marketing company is to build an eye-catchy website for them. So make sure they have a portfolio of website design and development projects.
3. Check For Additional Services Offered
Many, if not all, B2B SaaS digital marketing agencies offer additional services apart from branding, digital marketing and website design and development. Conduct thorough research about the company – its history, services, achievements, and awards.
If you need any services in the future that the company you are eyeing has, you can get in touch with them instead of looking for a new company.
4. Get In Touch With Their Previous Customers
You can get deeper insights about an agency by talking with the customers they have worked with. Obviously, you will get the client list from their website, and the agency might also say that the customers are satisfied.
However, you can't simply believe in promotional tactics. So contact their clients, schedule a meeting with them and ask about the quality of their work, the in-house team, and how professional and experienced the agency is at their work.
Finally, after researching the agency, the services they offer, the pricing and the quality of work based on their clients' feedback.
The next step is directly connecting with the B2B SaaS marketing agency, discussing your business requirements, and meeting the agency's professionals working with you.
This will help you directly evaluate factors like professionalism and expertise, among other factors of the team.
Conclusion
Partnering with a top-notch B2B SaaS digital marketing agency can be a game-changer for your business. With their expertise, you can create and implement cutting-edge digital marketing strategies that will help you stay ahead of the competition and achieve your business goals.
However, before hiring an agency, it's essential to take the time to determine your business needs, set a budget, and check for any additional services that may come in handy. It's also important to read reviews and testimonials from the agency's previous customers and meet with their in-house professionals to gauge their expertise.
Our list is a great starting point to explore. So, don't wait any longer, take the next step and partner with the agency that best suits your needs.
If you are a SaaS startup looking to grow your business as fast as possible. Then get in touch with our experienced team and let us help you achieve your vision faster than you imagined