Hey! Did you know that the global SaaS market revenue was valued at $165.9 billion in 2021 and is expected to increase at an 11.0% compound annual growth rate (CAGR) from 2022 to 2028.
This is a clear indication that the demand for SaaS products is growing day by day. But as more and more similar products emerge, competition gets tough.
Though many SaaS companies come to life many don't make it🤷‍♂️according to Startup Genome, 90% of startups completely fail.
Most medium and small-sized SaaS firms rarely have the opportunity to compete with their larger counterparts due to lack of marketing experience and resources.
Marketing is difficult, if you did not know that, now you do, and SaaS product marketing is a world unto itself. Its success demands the right talents, software and strategies. Long story short, it's quite a hassle to identify quality talent and find the right tools.
There is a lot of trial and error involved, eventually this uses up vital resources that SaaS companies can spend where they need it the most – The Product itself
Here are the top five reasons why you should hire a B2B SaaS product marketing agency right away:
Save your time and money.
Hire experts in your industry for a fraction of the actual cost of a complete in-house team.
Get consistent results and improvement in metrics that matter to your business/
Easy to scale your marketing efforts as your company grows.
A good B2B SaaS Product Marketing Agency provides an all-in-one solution for all your SaaS marketing concerns.
In this article we list out the 10 best B2B SaaS product marketing agencies in 2023 that can help get your awesome product into the market with a bang and and showcase it to the right people to grow all the metrics you're looking for – MQL, SQL, MRR ARR.
10 Best B2B SaaS Product Marketing Agencies That Startups Can Hire in 2023
growth.cx, is one of the leading full-service B2B SaaS Product Marketing Agencies in 2023. We have successfully collaborated with numerous businesses in the B2B SaaS sector, playing a vital role in scaling their growth and achieving significant improvements in key metrics.
Our primary objective at growth.cx has been to address the issue of high failure rates among SaaS startups. Therefore, we have dedicated ourselves to reducing this number by leveraging our expertise in the field of marketing, which is what we do best.
How We Stand Out
Unlike most agencies we don't charge exorbitant fees and deliver standard results, our commitment is to always go above and beyond our clients expectations. Our proven product marketing roadmap created by seasoned product experts has turned out to be a growth catalyst for many startups we collaborate with.
Our framework begins with
Mastering the product.
Conducting through competitor and market research.
Developing the perfect ICP for your product.
Creating the best messaging and positioning for the product.
Identifying the best channels for product promotion.
Help with sales enablement and marketing collateral.
Start product launch.
Onboard prospects and nurture them.
Help gather customer feedback to achieve Product Market Fit.
Implement strategies and activities for customer retention.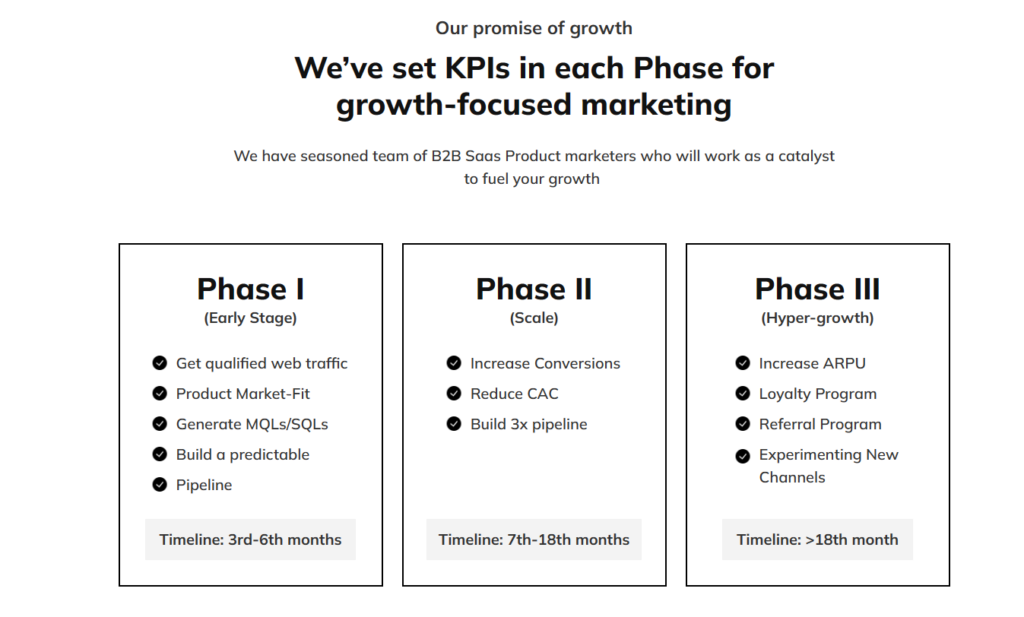 Right from the moment our collaboration starts we act as an extension of your internal product marketing team. Your goals are now OUR GOALS. growth.cx's product experts are now YOUR PRODUCT EXPERTS.
B2B SaaS Services We Provide to Hyper Scale Your Product
As a full-service product marketing agency, our team is capable of handling all marketing aspects from strategic planning and production to sales, social media, digital marketing, analytics and more.
In short we take care of everything your product needs to shine in the market. Our services include:
Conversion Rate Optimization
Social Media Marketing
Inside Sales, Sales Enablement
Fractional CMO
Fractional SaaS Marketing Service
Some of Our Growth Hacks For B2B SaaS Companies
With our team expertise we were able to scale Key SaaS Metrics for many businesses irrespective of the industry they belong to
We generated over $135k ARR in the 9th month alone for SurveySensum – An AI enabled Online Survey Platform.
We helped GlobalPatron get over 500 paid conversions through various organic channels.
We helped cmercury an AI-powered Email Marketing Platform get over 250% increase in organic traffic and 330% organic sign ups in 6 months
No matter what industry your startup is in, all we care about is scaling your business to new heights that you have not seen.
2. Funky Marketing
Funky Marketing is another product marketing agency that assists B2B companies in increasing revenue growth through digital marketing tactics with minimal marketing costs.
You can collaborate with them if you don't have a team, or if you have, they can work with current teams to establish and improve marketing channels, increase conversion rates, obtain more SQLs, and retain new customers.
They can help you evaluate and scale your KPIs, keep an eye on your growth process, and automate your marketing funnels no matter how big your company is.
Services Offered:
Relationship Centric Marketing
Creating brand stories
Content Marketing
Conversion Rate Optimization
Demand Generation
3. Single Grain
Single Grain is an agency that infuses all their product marketing campaigns with energy and enthusiasm. They assist their clients with everything from creating highly successful marketing funnels to managing PPC campaigns.
Their primary goal is to achieve the results you desire for your company. Their expert marketers assist brands in determining where and how to spend their money, whether through social advertising or targeted search marketing.
Services Offered:
SEO
Paid advertising
Social media marketing
Crypto
NFT marketing
4. Kalungi
Kalungi is a B2B SaaS Product marketing agency that offers a potent mix of marketing methods to assist SaaS startups in growing. Their experienced teams guide their clients through three stages of marketing maturity: Start, Scale, and Profits.
They provide over 40 services for B2B SaaS clients, from competitive analysis to customer journey mapping, persona research, and content production. Furthermore, they offer tailored services based on the client's business requirements.
Services Offered:
SEO
Conversion Rate Optimization
Paid advertising
OKR management tool
Website themes and designs
5. Hey Digital
Hey Digital is a product marketing agency that assists SaaS and Tech companies to increase trial signups, demo requests, webinar attendees, and brand MMR by developing successful paid acquisition campaigns on Facebook and Google.
The agency has extensive SaaS industry experience and thinks creativity is at the heart of marketing. It not only improves conversion rates but also looks after the design of the landing page.
Services Offered:
Paid advertising
CRO
PPC
Paid social and landing page design
Social Media Marketing
6. Metric Theory
Metric Theory is a performance marketing agency that has worked for B2B SaaS product firms, direct-to-consumer brands, consumer app companies, major e-commerce sites, and fast-growing startups.
They are committed to helping brands reach their maximum potential by boosting their clients' marketing through impactful and simple solutions.
Services Offered:
Performance Marketing
Amazon Marketing
B2B Lead generation
SEM
Video Advertising
7. Klicker
Klicker is an agency that provides complete B2B SaaS product marketing services, ROI-focused campaigns, bi-weekly transparent reporting, open-door client communication, and more.
Their skilled B2B social media marketing team determines the most effective social media platforms for shaping your brand's personality and reputation.
Services Offered:
WordPress Website Design
Email Marketing
Content Marketing
PPC
SEO
8. Ironpaper
Ironpaper is a B2B product marketing agency that primarily focuses on developing marketing and growth strategies, generating qualified leads, increasing sales and so on
They have successfully enabled sustainable growth and raised conversion rates for their clients through their host of offered services
Services Offered:
Digital Marketing
Account-based marketing
Sales intelligence
Content marketing strategy
CRO and UX optimization
9. TPM – Total Product Marketing
TPM is a dynamic product marketing agency specializing in assisting Cloud, IoT, and SaaS companies in expanding their reach to untapped audiences. Their seasoned team crafts compelling messaging that guarantees their clients' differentiation in a saturated marketplace.
With their profound understanding of the technology buyer, TPM offers invaluable insights and strategies necessary to thrive in today's fiercely competitive landscape.
Services Offered:
Marketing Strategy
Digital Marketing
SEO
Channel Marketing
Sales & Marketing Alignment
10. Chasm
Chasm is a product marketing agency dedicated to assisting tech companies unlock their true maximum potential. Chasm equips their clients with essential tools and resources necessary for triumphing in the marketplace.
Their comprehensive range of services encompasses market research, meticulous product launch planning, and effective go-to-market strategies. By partnering with Chasm, tech entrepreneurs gain access to the knowledge and expertise required to successfully navigate their products to market success.
Services Offered:
Demand Generation
B2B Marketing Strategy
Content Marketing
Search Engine Optimization
Paid Advertising
Conclusion
These 10 best B2B SaaS product marketing agencies can handle your marketing difficulties while you focus on what you do best.
Even with a variety of various subject areas, this list only scratches the surface of what's currently accessible.
Overall, we understand that selecting an agency is a huge step, so do your research, get in touch with previous and existing clients of the agency and ask them for feedback if they are interested, talk to the agencies and the professional in-house team, gauge their expertise and then make the best selection for your business.
We propose working with a company that keeps itself accountable for outcomes, so you just pay for results and receive the finest SaaS marketing available.
Connect with us at contact@growthcx.com as we can help your B2B Saas Company in scaling and make you the leader of your industry. Check out our services and get on a call with a cup of coffee to unlock your hidden growth potential.
FAQs on B2B SaaS Product Marketing
What is a B2B SaaS Product Marketing Agency?
A B2B SaaS Product Marketing Agency assists Software-as-a-Service businesses in developing a data-driven B2B SaaS Go-To-Marketing strategy. In general product marketing agencies can help businesses with
Product messaging and positioning.
Customer Segmentation
Product Pricing
Sales Enablement
Marketing Collateral
Product Launch
Content creation, demand generation and much much more.
A good agency can help you with everything and anything related to getting your product the attention it deserves.
Is it necessary to collaborate/hire a B2B SaaS Product Marketing agency?
Each SaaS product is unique. Begin by identifying areas where you need help or improvement, such as copywriting, onboarding, price strategy, or lead creation.
Collaboration with a B2B SaaS marketing professional or consultant specializing in those areas can help you scale quickly and easily without having to go through the hassle of identifying and hiring someone.
What types of SaaS promotions are the most effective?
Among the many ways to promote your B2B SaaS product strategy are limited-time free or discounted trial offers, a branded podcast, live Q&A sessions on social media, customer testimonial clips, and unique content that stands out.
How much money does B2B SaaS marketing cost?
While the average total marketing budget is between 5-12% of total revenue, how much you should invest in marketing your B2B SaaS company depends totally on its current stage.
For which channels should you hire a SaaS marketing agency?
When searching for a SaaS marketing agency, make sure they can assist you with social media, since this may be really valuable.
Many B2B SaaS marketing agencies overlook the significance of social media. Therefore it is worthwhile to get assistance from someone who knows what they are doing. On the other hand, your website is the greatest spot for a SaaS marketing agency to assist you.
This is due to the importance of SEO in this scenario, and you want to have a lot of useful content on your website. To have a consistent income stream, you must appear at the top of the search results.