"Marketing without data is like driving with your eyes closed." – Dan Zarrella.
What if you marketing strategy is completely based on data and metrics? If it sounds like a perfect plan for your business. Then Perfomance marketing is for you!
Without performance measurement, you're essentially throwing resources into the void, wasting valuable time and money. The answer to this issue is? Performance marketing.
You need to be sure that your marketing strategies are truly boosting sales and generating revenue.
This results-driven approach efficiently combines creativity and data, delivering measurable ROI and cutting unnecessary costs.
The best part? You only pay the agency after achieving your specific business goals.
According to eMarketer, US digital ad spend crossed $200 billion in 2023, with a lion's share channeled towards performance marketing? Undoubtedly, selecting the right agency can make or break your campaign's success.
You're in the right place to start -Today, let's unveil the top 10 performance marketing agencies of 2023 that have consistently delivered ground-breaking results, propelling their clients' ROI to stellar heights.
10 Best Performance Marketing Agencies to Boost Your ROI in 2023
growth.cx is a top-performance marketing agency for B2B SaaS. With our remote team of experts, we understand that good performance from our side means great output for your brand goals.
Working with us ensures you don't have to worry about reaching your business objectives.
We follow this simple 11-step proven framework to help you achieve those lucrative revenues and sizzling brand popularity. In this framework, we:
Define your objectives and requirements distinctly.
Identify KPIs based on your business goals for each phase in our performance marketing strategy.
Research the market and analyze your competitors.
Strategize a 3-phase growth-fueled calendar based on all the data gathered.
Choose the right performance marketing channels based on your needs.
Allocate the budget for each marketing channel to effectively run ad campaigns.
Create compelling content and creatives that clearly convey the message behind the ad.
Implement tracking and choose an attribution channel that best aligns with your customers and business.
Launch the first marketing campaign within 7 days of creating the strategy.
Analyze the areas of improvement in the marketing campaigns and optimize them at regular intervals.
Scale successful campaigns based on data and insights.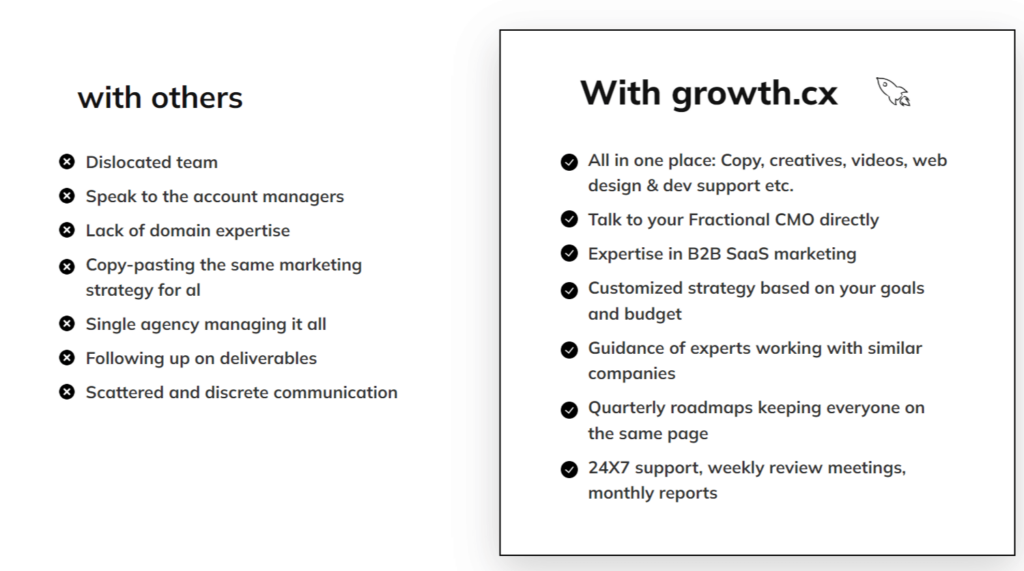 Services
CPC
A/B Testing
CPL
CPS
CPA
CPM
Top Case Studies
Foaps is B2B SaaS centralized order management system is used to handle multiple online food orders from various food delivery partners through a consolidated dashboard.
Ideal Customer Profile
Regions: India
Buyer Persona: Restaurant owners
Domains: Restaurant
Company size: Small and medium businesses
Channels
Type of content
Testimonials Videos
Carousel Ads
Achievements
Reduced CPL by 68.78%.
Generated 730+ leads in just 3 months.
Improved lead quality by 85% and SQL by 15% through the implementation of video ads.
Built a predictable pipeline in 45 days.
Tringpartner is an IVR service provider that offers end-to-end call automation, call tracking, call routing, virtual phone numbers, call management, and more. Their app-based business phone system helps teams keep track of all business calls in one convenient location.
Ideal Customer Profile
Regions: India
Buyer Persona: Medium and Small business owners
Domains: Automobile, Health care, Education, Hospitality, Consumer Goods, Tours & travels, Real Estate, IT products & services
Company size: Small and medium businesses
Type of content
Short animated videos
Carousel Ads
Channels
Instagram
Facebook
Google Search
Achievements
Consistently generated 5-8 leads daily.
Reduced CPL from $9.78 to $4.28.
Reduced disqualified leads to less than 5% to make Sales Team's job better
A predictable sales pipeline was built in 3 months
Retable is a customizable and user-friendly data management tool with ready-to-use templates like HR applicant tracking and social media calendar. It also offers game-changing features like map view and QR code column.
Ideal Customer Profile
Regions: USA, UK, India, Turkey
Buyer Persona: Project Managers, HR & Recruitment Specialists & Managers, Operations managers
Domains: NGOs, SaaS, Banking, Telecom
Company size: Small, Medium and Enterprises
Type of content
Channels
Achievements
Generated 350 signups with a budget of $2567 in the first 3 months.
Reduced CAC from $15.92 to $7.29.
2. JumpFly
JumpFly is a PPC management agency helping clients to attract high-quality leads and turn them into customers. With more than two decades of experience, JumpFly has a team of 40 qualified marketing experts. They specialize in Facebook and Instagram marketing. Google News has requested them to be listed in their news network as a reputable source of PPC insights.
Services
PPC Management
Amazon Ad Management
Social Media Managing
3. Ignite Visibility
Based in San Diego, Ignite Visibility is one of the premier agencies in CRO, SEO, and paid media.
Services
Social Media Marketing
Paid Media
SEO
4. Tinuiti
Tinuiti is one of the biggest performance marketing agencies across Google and Facebook specializing in affiliate marketing.
Services
Lifecycle marketing
Affiliate marketing
SEO
Influencer marketing
5. Kobe Digital
Kobe Digital is a performance marketing agency specializing in insight-driven ad campaigns powered by dynamic content, colorful visuals, and precise targeting to generate leads, revenue, and interest. Their unique aspect includes understanding the millennial generation to assist clients in actively engaging with this demographic.
Services
Performance Marketing
Web Design and Development
Video Production
6. Obility
Obility does performance marketing for B2B Tech companies. They have doubled the pipeline for Marketo (a tech company) with a 40% decrease in expenditure.
Services
7. NoGood
NoGood is a pioneer in performance branding and performance creative methodology that combines results and creativity under one roof.
Services
Performance Marketing
Paid Social
Paid Search
8. iCrossing
With over 900 professionals distributed over 19 offices globally, iCrossing is a digital marketing agency that uses storytelling and customer experience to create exceptional innovative campaigns that bring results.
Services
Performance marketing
SEO
SEM
9. AdParlor
AdParlor is a results-focused digital marketing company aiming to leverage actionable insights gained from various data to build paid social strategy and generate results for its clients. Founded in 2008, AdParlor has been in the marketing industry for more than a decade. Their main focus is on 3 aspects- building brand affinity, increasing traffic, and generating revenue.
Services
Agile Performance Marketing
In-housing
Media Buying and Execution
10. Moburst
Moburst is a global mobile-first digital marketing company excelling in developing innovation strategies for B2B SaaS companies that connect brands with their target audiences and convert them into retaining customers.
Services
Digital Marketing
SEO
SEM
How to Choose the Right Performance Marketing Agency for Your Business?
Choosing the right agency that understands your business requirements is essential. You want your money's worth, right? Don't let the shiny awards dazzle you.
Check on these green flags to discern if the performance marketing agency is the right fit for you.
1. They Have the Industry Experience
Marketing agencies specializing in B2B SaaS marketing will have strategies unique and different from the marketing strategies used for say, the pharmaceutical industry. Choose an agency that specializes in your niche.
Such performance marketing agencies will know the industry secrets and nitty-gritty to create customized strategies that give you an upper hand over your competitors.
2. They Support You
Do they provide 24×7 high-quality support, weekly review meetings, and monthly reports? If the answer is yes, then go ahead.
A good agency will:
Come up with customized strategies catering to your business needs rather than just executing what your in-house marketing team suggests.
Ensure you're on the same page with them by providing quarterly roadmaps.
Give you guidance from experts that have worked with similar companies.
3. They Provide Analysis and Attribution
A good agency will identify the key touchpoints and interactions throughout the sales funnel of your customers. Then, they will come up with an attribution model that best suits your business and customer journey.
4. They Have Multiple Channels
You can't stick to one performance marketing channel to spread brand awareness. Your chosen agency must provide ad campaigns across a variety of channels and platforms.
P.S. At growth.cx, it's never a one-way ticket. We focus on content marketing, social media, SEM, and native advertising on your web page!
Conclusion
Digital marketing's future looks more promising every year. That's why, you can use performance marketing to scale your marketing agendas and meet your revenue goals without any unnecessary expenditure. See the results of your marketing efforts and decide what solutions work and what don't.
Once you embrace all the functions of performance marketing (from affiliate marketing to paid social media content), you will find it much easier to expand your business and get diverse customers. That's why choosing an agency that upholds your brand values and provides foolproof strategies are so crucial.
At growth.cx, we create personalized marketing solutions based on your goals and budget. (Yes, we're mindful of your pocket too!)
With us, from copy and creatives to dev support, you find everything in one place. Plus, we specialize in B2B SaaS marketing. So, if we sound just like your ideal team, click here and get in touch with us!
FAQs