It's no secret that if you're a SaaS startup founder looking to gain an edge in the digital marketplace, hiring the right growth marketing agency can make all the difference.
From driving high-quality leads through content and email campaigns to creating innovative A/B testing strategies, a good agency will become your cheerleader as you work towards achieving success. Whether you're just starting out or have already launched your product, these powerful digital partners will help you level up quickly and effectively with their experienced teams of marketers.
But how do you know which one is right for your needs? That's where we come in! In this blog post, we list out our top picks for growth marketing agencies that are particularly well-suited for SaaS startups as of 2023.
Read on to learn more about how each one stands out from their competition – it's sure to be time well spent!
Traditional Marketing Vs Growth Marketing
Traditional Marketing
Growth Marketing
Traditional Marketing is linear, direct, and doesn't go in depth. It has a "set it and forget it" approach.
Example: Google Adwords and display ad campaigns with ad copy.
Growth Marketing goes above and beyond. Growth happens gradually from the culmination of small actions over a period. It doesn't rely on one extensive campaign for success like traditional marketing.
It focuses only on customer acquisition and activation. Traditional Marketing spreads brand awareness without considering what happens after a lead converts into a customer.
Growth Marketing focuses on the AARRR metrics: Acquisition, Activation, Retention, Referral, and Revenue.
The acquisition involves generating leads and traffic and enhancing SEO. Activation involves onboarding. Retention involves building advanced techniques for pulling back users. Revenue includes increasing the payable customer base.
Growth marketing looks after the entire marketing funnel. Its goal is to acquire customers through good engagement, give them a good experience and convert them into brand advocates.
It relies on tried and tested methods.
Example: Print ads, TV commercials, direct mail, and Radio ads.
It relies on analytics and data. Growth marketers analyze which marketing techniques are or aren't working and invent creative strategies for better reach. It's active in places like social media for direct access to the target audience.
Example: Email Marketing (Newsletters), improving products based on customer feedback, A/B testing to improve KPIs and enhance lead generation.
It strives to bring traffic and increase brand awareness.
It strives to achieve high conversion rates and lifetime value.
Now that you know the value of growth marketing, you might rush to improve your SEO or start planning social media campaigns.
But you already have your products to look after. How will you handle marketing? If you are overwhelmed, take the help of any of these top 10 SaaS growth marketing agencies that will accelerate your growth marketing game in no time.
Top 10 B2B SaaS Growth Marketing Agencies in 2023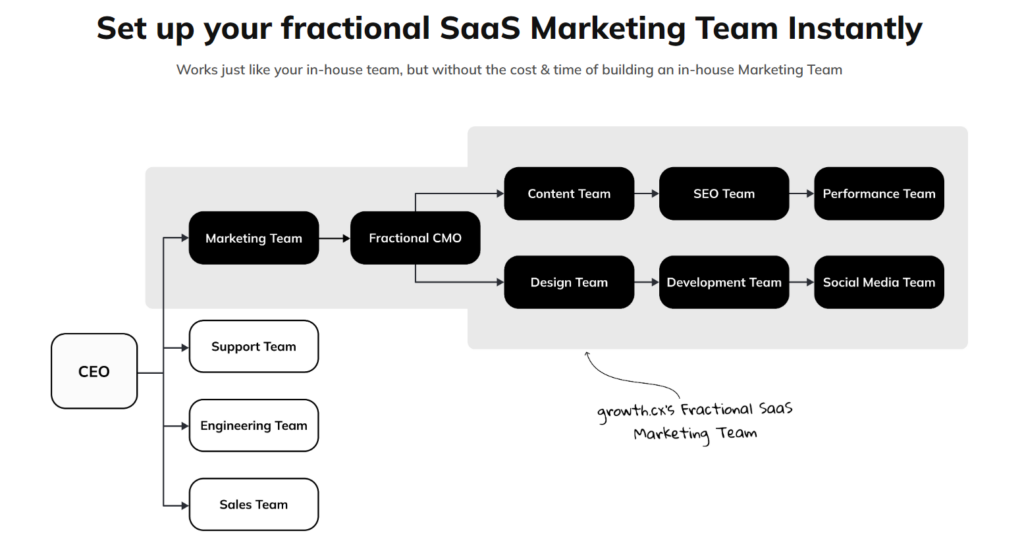 growth.cx is a B2B SaaS growth marketing agency specializing in tailored services and frameworks based on your requirements. We have helped over 30+ global B2B SaaS startups scale their revenue with our growth marketing strategies. Being a remote team, we focus all our attention on metrics and analytics instead of coffee and the couch.
How Do growth.cx Help?
growth.cx doesn't believe in one size fits all. That's why, they follow a 7-step framework to develop a customized growth marketing strategy that aligns and adheres to your business goals.
Our 7-step framework includes
Learning about your product
Market and audience research
Competitor analysis
Determining the marketing channels
Creating a quarterly based growth-fueled marketing strategy
Reoptimizing the marketing strategy every 3 months
Services
Fractional CMO
Fractional SaaS Marketing Service
Social Media Marketing
Add-on Services
Growth Consulting
Conversion Rate Optimisation
LinkedIn Growth
Sales Enablements
Inside Sales
Go-To-Market Strategy
Brand Design
Web UI/UX, Development and Hosting
growth.cx doesn't provide a one-time service. If you want growth marketing, they will be with you until you grow. With growth.cx's sustainable growth engines, strive to increase your revenue. growth.cx believes B2B SaaS marketing is a long-term investment. That's why they have a full-service, full-funnel approach to generating qualified leads from starting till the end.
Top Case Studies
Actions speak louder than words. Instead of bragging, look how growth.cx has helped its clients:
Factors.ai
Factors.ai is a B2B marketing analytics software company that helps businesses make sense of their data and make smarter, faster decisions. It offers an out-of-the-box marketing analytics solution that is designed to be easy to use and understand.
Ideal Customer Profile
| | |
| --- | --- |
| Regions | US, India |
| Buyer Persona | C-Level executives, and CMOs |
| Domains | FInance, Education, Architecture, Software, E-commerce |
| Company size | Large Businesses and Enterprises |
growth.cx helped in
Content marketing
SEO marketing
Sample Works
Blogs
7 Best HockeyStack Alternatives: Features, Reviews, and More
Top 7 Dreamdata Alternatives to Look For in 2023
Content Optimization
Top 7 Types of Attribution Models for You to Try in 2023
Achievements
291% growth in organic traffic within 5 months. 230% in total impressions.
SurveySensum
SurveySensum, is an AI powered innovative solution for online surveys. Surveysensum redefines efficiency and interactivity, empowering businesses to construct engaging questionnaires effortlessly.
Ideal Customer Profile
| | |
| --- | --- |
| Regions | US, Indonesia, India |
| Buyer Persona | CX professionals, Marketing professionals, HR managers, Product managers |
| Domains | Retail, Automotive industry, Banking, Healthcare |
| Company size | Small, Medium and Enterprises |
growth.cx helped in
Content Marketing
SEO
Website UI
Works that generated results
Highly converting landing page – NPS Software
High ranked and converted blogs –
10 Best Qualtrics Competitors and Alternatives in 2023
15 Best NPS Tools & Software in 2023 [Free Version, Features & More]
Achievements
AI-Enabled CX Management platform SurveySensum generated $135k ARR in just 9 months through innovative, multi-channel surveys and actionable insights.
Foaps
Foaps is a B2B SaaS centralized order management system used to handle multiple online food orders from various food delivery partners through a consolidated dashboard.
Ideal Customer Profile
| | |
| --- | --- |
| Finance, Education, Architecture, Software, E-commerce | US, India |
| Buyer Persona | C-Level executives, and CMOs |
| Domains | FInance, Education, Architecture, Software, E-commerce |
| Company size | Large Businesses and Enterprises |
growth.cx helped in
Content marketing
SEO Messaging
Performance Marketing
Positioning Social Media
Sample works
Achievements
Reduced CPL by 68.78%.
Generated 730+ leads in just 3 months.
Improved lead quality by 85% and SQL by 15% through the implementation of video ads.
Built a predictable pipeline in 45 days.
SalesQL
SalesQL is a tool that helps you find personal and business emails, as well as phone numbers, on LinkedIn profiles. You can use it as Google Chrome or Microsoft Edge Extension.
Ideal Customer Profile
| | |
| --- | --- |
| Regions | USA |
| Buyer Persona | Marketing Specialists, Performance Marketers, Sales Associates |
| Domains | Healthcare, Software, Hospitality |
| Company size | Medium Businesses and Enterprises |
growth.cx helped in
Content Marketing
SEO Marketing
Social Media Marketing
Sample Works
Blogs
Top 15 Linkedin Lead Generation Strategies to Gain 2X Leads!
How to Find Email From LinkedIn: 3 Effective Ways and More
Achievements
Achieved 116% increase in organic traffic in just 3 months.
Schoolvoice
Schoolvoice serves as a comprehensive digital hub engineered specifically for educational institutions, facilitating streamlined communication and optimal organization within their community.
Ideal Customer Profile
| | |
| --- | --- |
| Regions | US, India |
| Buyer Persona | Education institution decision makers |
| Domains | Education |
| Company size | Small, Medium Business And Enterprises |
growth.cx helped in
Content Marketing
Website UI
Messaging
SEO
Positioning
Social Media
Works that generated results
Highly converting landing page – Classdojo Alternative For School Communication
High-ranking blog page – How To Improve School Communication [A Detailed Guide]
Achievements
With proper strategies and implementation, growth.cx helped Schoolvoice increase organic traffic by 1202% within 11 months.
Being in the SaaS industry, growth.cx understands SaaS buyers. They find and leverage what your potential prospects are looking for. Based on that information, they build strategies and growth hacking techniques to reach your ICP at the right time with the right message.
2. Lean Labs
Lean Labs is a growth marketing agency that helps SaaS and tech brands grow faster and more efficiently. They believe that growth is a process, not an outcome and that it can be achieved by focusing on the right things at the right time. Lean Labs is headquartered in Overland Park, Kansas.
Services
Growth Marketing
Lead Generation
Go-to-Market Strategy
Conversion Rate Optimization
3. Tuff Growth
Tuff is a growth marketing agency that helps businesses of all sizes find traction and scale. They believe that growth is a process, not an outcome and that they can help businesses achieve their growth goals by building custom teams that act as an in-house marketing team. Tuff is headquartered in Eagle, Colorado, but they work with clients all over the world. 
Services
Strategy and Insights
Content and SEO
Paid Media
Performance Creative
4. WebFX
WebFX is a digital marketing company that has driven over $3 billion in sales and 7.8 million leads. They create custom strategies for each client based on their needs and criteria.
Services
SEO and Lead Generation
PPC Ads
Social Media Marketing/Managing
Content Marketing
5. Mediajunction
Media Junction is a growth marketing agency that has worked with some reputed names. This woman-owned agency offers competitive rates with a quick turnaround time to make your investment seem worth it.
Services
Inbound Marketing
Branding
Story Branding
Sales Enablement
6. Growthcurve
Growthcurve is a growth marketing agency specializing in client acquisition, retention, conversion, and branding. They offer paid media campaigns that help you rapidly acquire quality users. They also optimize your landing pages, site experience, and app store profiles for better conversion.
Services
Growth Hacking
User Acquisition
PPC
Facebook Ads
7. GrowthRocks
GrowthRocks is a growth-hacking marketing agency that helps both startups and well-known companies achieve rapid growth at a competitive price. They follow the "Acquisition, Activation, Retention, Revenue" technique for sustainable growth that goes on for a lifetime.
Services
Growth Hacking
Content Marketing and Strategy
Inbound Marketing
SEO
8. MajorTom
Major Tom is a full-service digital marketing agency that has been purpose-built to help organizations thrive in an increasingly complex landscape. The agency has offices in Vancouver, Toronto, and New York, and has been in business for over 20 years.
Services
Digital Marketing
Social media marketing
Search engine optimization (SEO)
Content marketing
Email marketing
Paid advertising
9. Atrium
Atrium Digital is a digital marketing agency that uses a Systems Engineering approach to marketing platforms and routines. They have been providing consistent business results for growth-driven businesses since 2000. Atrium's team of marketing professionals applies systems engineering principles to define optimal platforms and routines needed, as well as the latest technologies and information, to achieve marketing performance consistently.
Atrium is headquartered in Edmonton, Canada, but they have a global team and clientele.
Services
Website design and development
Search engine optimization (SEO)
Pay-per-click (PPC) advertising
Content marketing
Social media marketing
Email marketing
Conversion rate optimization (CRO)
10. Konstruct
Konstruct Digital is a digital marketing agency that specializes in helping B2B businesses grow. They have a proven track record of success, having helped their clients achieve significant results in terms of leads, traffic, and sales. Konstruct Digital is headquartered in Calgary, Alberta, Canada. However, they serve clients all over North America.
Services
SEO
Paid media
Content marketing
Web design and development
Social media marketing
Email marketing
How to Choose the Right Growth Marketing Agency for Your Business?
By choosing the right agency you can save a lot of money, time and energy. But how do you choose the right agency? To answer this we have curated a set of questions you can ask yourself while choosing your agency.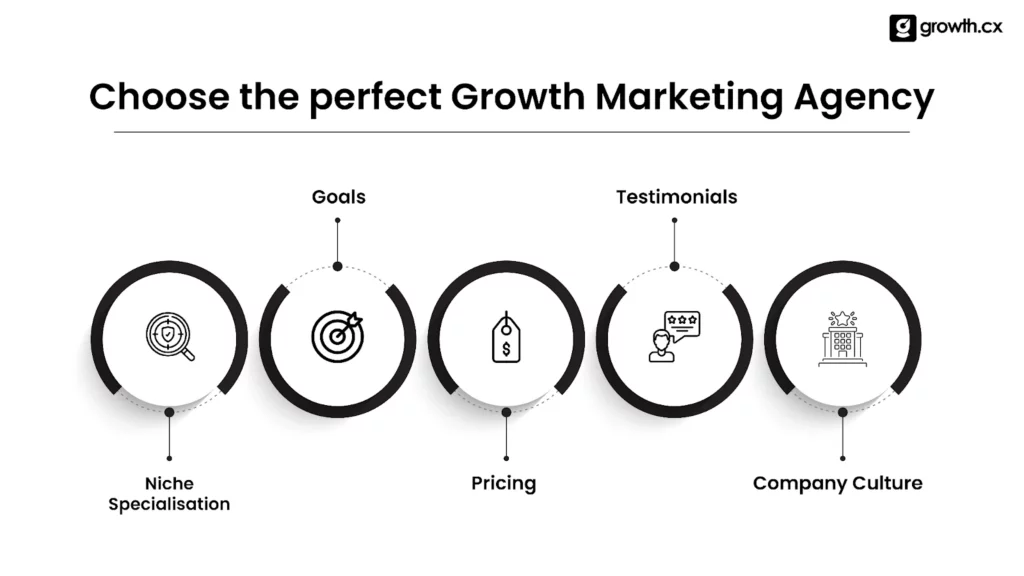 Does the Growth Marketing Agency Specialize in Your Niche?
An agency that specializes in your industry will be able to understand your product and needs much faster than other agencies that have worked outside your industry. They will be able to generate results faster as they have in-depth knowledge of the industry.
Do Your Goals Align?
Does the growth marketing agency understand and resonate with your goals? Do they come up with comprehensive strategies that are specifically tailored to your requirements? Do they follow their ideas and report the changes to you? If the answer is yes to all these questions, then you have chosen the right agency.
Are They Overpriced?
There's no point in marketing if the agency you're eyeing charges way above your budget. A good growth marketing agency will save you the money spent on hiring an in-house team, tools, software, and programs.
At growth.cx, we give you the full utilities of an in-house marketing team at a price much lower than building an in-house team.
Do They Have Proof?
Ask for case studies and client testimonials. Check the following things in the case studies:
Results: Check for measurable numbers to show how they grew their client's traffic and revenue and how they generated leads.
Process: What methods did they use to achieve the results? Honest agencies will always be transparent about their means of work.
Metrics: What keywords or traffic did they use to measure success? Do they have tools for measuring?
Channels: Where did they execute their plans? Was it only SEO or social media or a combination of both?
Does Their Company Culture Align With Your Brand Values?
The most essential part of any collaboration is to check if the agency matches your vibe and understands your brand values at an emotional level.
Are the people in the growth marketing agency easy to get along and communicate with? If the agency isn't friendly, you might have communication problems that will hamper your marketing agendas.
Ensure that the growth marketing agency you collaborate with has a strong company culture that aligns with your brand values.
At growth.cx, we work as an extension of your team. Your goals become our goals. Your needs become our responsibility to fulfill. Based on your needs, we build a customized team of specialists that you can integrate with your team.
Conclusion
Growth marketing will advance even further as more people realize that marketing is not about promoting products but also about understanding customer needs and what satisfies them.
If you follow a "promote and forget" approach, your target audience will forget you too. You wouldn't want that. Growth marketing lets you slowly find your way into your customers' minds and make them remember you forever.
But here's a catch: not all B2B growth marketing agencies will be a fit for you. So hop on a free call with us over a coffee and see what we would do for you as your growth team.
This call might save you thousands of dollars and hundreds of minutes that you might waste hiring an agency and then figure if they match with you. Let's cut to the chase and get down to business today.
FAQs
A growth marketing strategy for SaaS focuses on driving sustainable and scalable growth for a software-as-a-service (SaaS) company.This may include activities such as targeted advertising, content marketing, conversion optimization, customer retention programs, referral campaigns, and strategic partnerships.
A SaaS marketing agency is a specialized agency that provides marketing services specifically tailored to companies in the software-as-a-service (SaaS) industry. These agencies have expertise in understanding the unique challenges and target audience of SaaS businesses.
To effectively market a SaaS startup, consider the following steps:
Define your target audience, develop a compelling value proposition, create a strong online presence, content marketing, utilize digital advertising, provide exceptional customer support, leverage partnerships, offer free trials or demos, monitor and optimize.